This large flat property is located in El Mirage, CA. El Mirage is north of Adelanto, 11.3 miles west of Highway 395, 11 miles northwest of Lake Los Angeles and 25 miles east of Lancaster. The property sits within the San Bernardino County but alongside the border with LA County.

This property lies within the unincorporated area of the San Bernardino County within the 'Resource Conservation' zoning. According to the County this land use designation zoning district provides for open space and recreational activities and single family homes. It also sits within an area that is 'closed to all shooting except shotguns firing shot no larger than 1/2 the diameter of the bore' (According to the San Bernardino County Recreational Shooting and Hunting Map).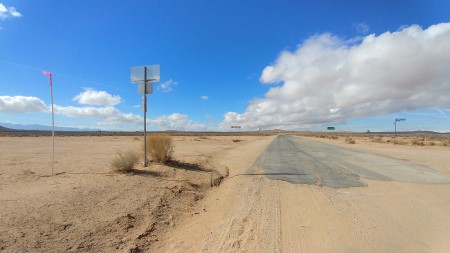 The property is on on the corner of Shadow Mountain Rd and 260th St E within the San Bernardino County but sits on the border with LA County and has paved road access on E Avenue G. The property is flat, with electricity approx 1.5 miles southwest. The area is sparsely populated to the southwest with lots of open desert and Bureau of Land Management (BLM) land nearby.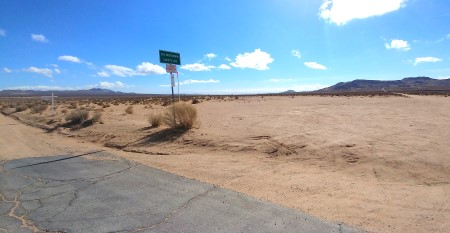 Many possibilities exist for this property with its easy access and flat topography; solar development, ranch home with plenty of room for animals or hobbies, or an assortment of recreational activities could be possible. Don't let this opportunity pass you by!

El Mirage is more well known for its dry lake bed, El Mirage Dry Lake, which is an OHV area. The entrance is south of the property along El Mirage Rd. The OHV area is fenced and allows for Off Highway Vehicles such as dirt bikes, quads, 4x4's and other such vehicles. The area is great for camping, ultra lights, hiking or wildlife watching.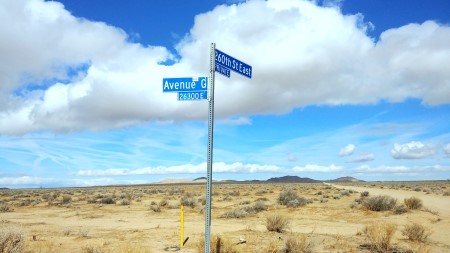 Directions to the Property: from El Mirage Rd. turn north (right) onto 240th St E for 6 miles, turn left onto E Avenue J and go 4 miles, turn right onto 200th St E and go 3 miles, turn right onto E Ave G and go 6 miles. Property is on your right. A sign is on E Ave G (Shadow Mountain Rd) and 10 ft white PVC poles mark the approx property corners.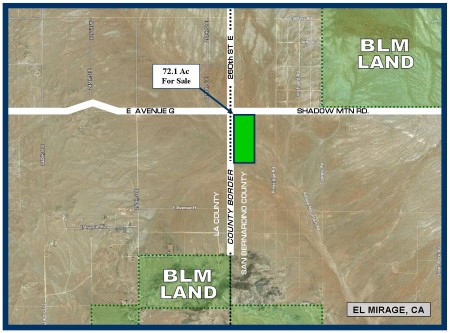 Land for Sale in El Mirage, CA - Kristen L. Maley (Realtor, Land Pricing Strategist at LandCore Realty). LandCore Realty provides cutting edge technology and marketing to its clients. I specialize in helping land owners and those looking to invest in land in Oro Grande, Adelanto, Victorville, Hesperia, Apple Valley, Helendale, Yucca Valley, Joshua Tree, Twentynine Palms and surrounding areas (760) 952-2345