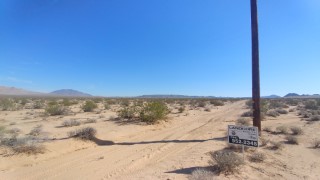 5 Acres in Lucerne Valley with POWER! The property is only a half of a mile from pavement and located 5 miles north of Highway 247 in eastern Lucerne Valley, San Bernardino County California. Lucerne Valley is north of the San Bernardino Mountains and east of the Town of Apple Valley, CA in the Mojave Desert.


Lucerne Valley is a quiet rural town that has many small agriculture growers and livestock owners. Located in and around a dry lake bed, this community is home to many outdoor lovers of all types. Come out and enjoy the wide open desert, hills, mountains, valleys, rocky trails, clear night skies, and stunning sunrises that we call home. If you are looking for a place that is off the beaten path, but still less than 30 minutes from the full service amenities of town, look no further!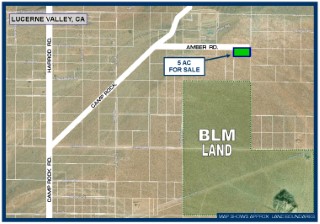 Click here for more information about this property.

Directions to the property: When traveling east from Apple Valley on CA-18, continue straight through the stop sign in Lucerne Valley where the road becomes CA-247 heading towards Joshua Tree/Yucca Valley. From the stop sign go 6 miles to Camp Rock Road, turn left and head north for 4 miles, turn right to continue on Camp Rock Rd and go 1.1miles, turn right onto Amber Rd. and go .5 miles. The property is on your right, with approx corners marked with 10 foot white poles with pink tape. Sign on the property.
Land for Sale in Lucerne Valley, CA - Kristen L. Maley (Realtor, Land Pricing Strategist at LandCore Realty). LandCore Realty provides cutting edge technology and marketing to its clients. I specialize in helping land owners and those looking to invest in land in Oro Grande, Adelanto, Victorville, Hesperia, Apple Valley, Lucerne Valley, Barstow, Helendale, Yucca Valley, Joshua Tree, Twentynine Palms and surrounding areas. (760) 952-2345