This 5 acre parcel overlooks the Lucerne Valley, and is just 1.6 miles north of of Highway 247. Lucerne Valley sits within San Bernardino County north of the San Bernardino Mountains. The property is 8.5 miles northeast of the intersection of CA18 and Highway 247 and 15 miles northwest of the turn off for the Johnson Valley OHV.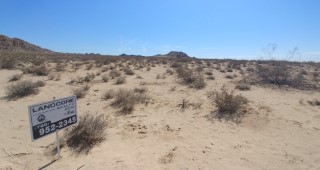 Lucerne Valley is a quiet, rural town that has many small agriculture growers and livestock owners. Located in and around a dry lake bed, this community is home to many outdoor lovers of all types. Come out and enjoy the wide open desert, hills, mountains, valleys, rocky trails, clear night skies, and stunning sunrises that we call home.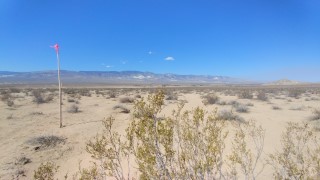 The neighborhood is sparsely populated with homes, far enough from the main highway to not be bothered with highway noise and is slightly elevated to give great views of the valley. A few Joshua Trees dot the landscape, the area also has some lava rock scattered over the ground. If you are looking for a place that is off the beaten path, look no further!
The property is close to Bureau of Land Management (BLM) public land and can be accessed via designated trails. For information about BLM land visit www.blm.gov/california.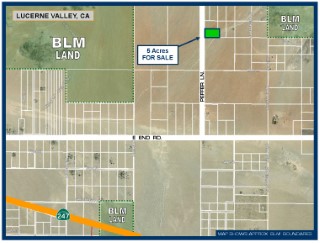 Click Here for More Information

Directions: From Highway 247, north on Camp Rock Rd, immediate right onto E End Rd. and continue 3.4 miles, turn left onto Peffer Ln and continue north .74 miles. Property is on your right. Approximate corners are marked with 10 ft PVC poles with pink tape. Sign on property.
Land for Sale in Lucerne Valley, CA - Kristen L. Maley (Realtor, Land Pricing Strategist at LandCore Realty). LandCore Realty provides cutting edge technology and marketing to its clients. I specialize in helping land owners and those looking to invest in land in Oro Grande, Adelanto, Victorville, Hesperia, Apple Valley, Lucerne Valley, Barstow, Helendale, Yucca Valley, Joshua Tree, Twentynine Palms and surrounding areas. (760) 952-2345