This 2.99 acre lot in El Mirage, CA sits .8 miles south of El Mirage Rd. and 1.7 miles east of the San Bernardino and LA County boundary line. El Mirage is an unincorporated area in San Bernardino County close to the city of Adelanto in the Mojave Desert of California.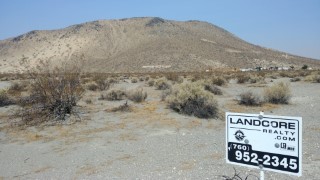 El Mirage is most known for the El Mirage Dry Lake OHV, the entrance is just 5.8 miles away and ready for off road vehicles, dirt bikes, camping, ultra lights, hiking or wildlife watching. The area is a great weekend get-a-way or come to events held for land speed challenges and racing. The neighborhood is quiet, sparsly populated with homes on 2-5 acres, and sits near the base of Black Mountain.

According to the San Bernardino County the property is zoned Rural Living, which 'provides sites for rural residential uses, incidental agricultural uses and similar and compatible uses.' The shooting restrictions in the area, according to the county: 'Closed to all shooting except shotguns firing shot no larger than 1/2 he diameter of the bore.'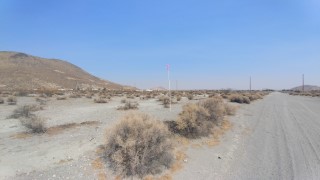 Directions to the Property from Victorville, CA- When traveling north on the 15 freeway, exit onto Palmdale Rd. and continue for 14.1 miles, turn right onto Old Phelan Rd. (Sheep Creek Rd.) and continue for 6.7 miles, turn left onto El Mirage Rd.and continue for 3.2 miles, turn left onto St. George Ave and continue south for .8 miles. The property is on the left side and the approximate corners are marked with white poles with pink tape.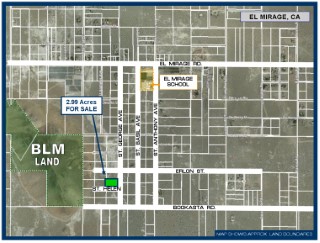 Click Here for more information about the property.
Land for Sale in Adelanto, CA - Kristen L. Maley (Realtor, Land Pricing Strategist at LandCore Realty). LandCore Realty provides cutting edge technology and marketing to its clients. I specialize in helping land owners and those looking to invest in land in Oro Grande, Adelanto, Victorville, Hesperia, Apple Valley, Lucerne Valley, Barstow, Helendale, Yucca Valley, Joshua Tree, Twentynine Palms and surrounding areas. (760) 952-2345