This great lot for sale in Twentynine Palms is on Larrea Ave. 29 Palms is located in San Bernardino County, one of the largest counties in the United States. The property is surrounded by custom homes and is just .5 miles from Twentynine Palms High School, .9 miles from Highway 62 (Twentynine Palms Highway) and 1.5 miles from Stater Brothers.

For current pricing and more Information CLICK HERE

Directions to the property from Highway 62: when traveling east along Highway 62, turn left onto Larrea Ave for approx. .9 miles, property is on the left just past Sunnyvale Dr. The corners of the property are marked with wood stakes painted pink. There is a neighboring vacant lot and burnt orange house to the northeast and a white house on the southwest border.

Twentynine Palms is more elevated than Palm Springs, which creates a slightly cooler climate. In 1952 a Marine Corps Air Ground Combat Center was founded just north of the area. The town is located between the military base and Joshua Tree National Park to the south. Miles of open desert is just outside of town where opportunities for off road, hiking, climbing, camping, and light-pollution free stargazing abound.


The owner of this property is offering to carry the financing: The terms offered at the time of this blog post are; $5,850 down (30%), a loan amount of $13,650 amortized at 6% for 5 years. Your monthly payment would be approximately $263.89 per month until paid.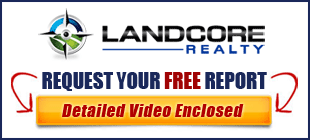 Are you a Land Owner interested in SELLING your property? CLICK HERE
Twentynine Palms Land for Sale - LandCore Realty provides cutting edge technology and marketing to all its clients. We specialize in helping land owners, and also those interested in investing, in Barstow, Hesperia, Apple Valley, Victorville, Adelanto, Lucerne Valley, and all surrounding areas. (760) 952-2345