This property For Sale in Helendale is located in the Bonanza Valley area on the border of the Helendale and Barstow communities. Helendale and Barstow are in San Bernardino county, the largest county in the country. Frontier Road creates the dividing line between the two communities, Barstow is on the east side of the road and Helendale the west. While this property is in the Barstow School District, the neighbors in this area would be more likely to consider themselves a part of Helendale.

Link to current price and more pictures

Helendale, with a population of around 6,000, is mostly known for the Home Owners Association called Silver Lakes. The area of Bonanza Valley is just over the ridge to the east, approximately 6 miles away from Silver Lakes. Spacious property like this is perfect for someone seeking a place away from the crowds with easy access to dirt biking, off roading, star gazing, horse riding, and many, many other outdoor activities. Other positives also include few neighbors, quick and easy access to the highway, and great views of the surrounding desert hills and mountains.
For someone looking to build a new custom home, it doesnt get any easier than this! There are a few homes in this area that have already developed the power and phone line infrastructure. This 2.3 acres has underground power from Southern California Edison and GTE phone lines along the western edge of the property, Frontier Road. Which means one large hurdle in developing the property has already been overcome! There is not an established well on the property yet, but there are a few other houses in the immediate vicinity with wells, so it is likely that finding good, drinkable water would not be an issue.
Directions to the property from I-15, while traveling north through Victorville are as follows: Take the D Street exit and turn left from the off ramp. D street immediately becomes National Trails Highway, (Historic Route 66) follow this approximately 20 miles then turn right onto Frontier Road. Go .3 miles on Frontier road and the property is on the corner of Panamint Trail and Frontier, next to a house with white ranch fencing on the front. As with all LandCore properties, the approximate corners are marked with 10 foot white poles topped with pink paint and survey tape.
The owner of this property is willing to finance this land. Rather than paying all cash up front, there is the option to pay a down payment, and then monthly amortized installments until the note is payed in full. The terms at the time of this blog posting are as follows: $6,200 down (20%) and monthly payments of $222.91 for 15 years or until payed in full.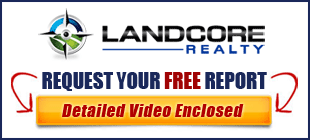 Are you a Land Owner?
Consider getting this Free Report if you are thinking about selling your property.
Barstow Land for Sale - LandCore Realty provides cutting edge technology and marketing to all its clients. We specialize in helping land owners, and also those interested in investing, in Barstow, Hesperia, Apple Valley, Victorville, Adelanto, Lucerne Valley, and all surrounding areas. (760) 952-2345