This pretty little gem for Sale in Helendale, is located in the Bonanza Valley area between Barstow and Silver Lakes. This 2.27 acre lot is just over .1 miles from Frontier Road which forms the boundary between Barstow and Helendale, and .7 miles from National Trails Hwy. This area is known for its Rural Living lifestyle, with plenty of space between houses and large lots, perfect for anyone looking for a little elbow room.

For current price, more pictures and more information Click Here.
The nearest neighbors are a couple of newer homes also on 2+ acres located just under 1000 feet to the north. This means that underground power and phone lines are under a thousand feet away! This property has good potential for someone interested in building a new home. The fact that these homes are in the proximity, is a good indicator that drilling a well and finding a good reliable source of water is very likely.
Opportunities abound in this area for the outdoor enthusiast, whether it be riding dirt bikes, horses, ATV's, or off-roading there is so much to explore! Helendale is a rural community of approximately 5,000 people with lots of open desert and mountains. 6 miles down National Trails Highway to the southwest is the Home Owners Association called Silver Lakes with two man made lakes, a 27 hole golf course a couple mini marts and many locally owned restaurants.
Directions to the Property from Victorville, CA- When traveling north on the 15 freeway, exit on 'D St.' and make a left onto D St. D St which becomes National Trails Highway (Old Route 66) and continue for approximately 21 miles, right onto Frontier Rd.,right onto Bullion Rd., left onto Gunsmoke Rd. The property will be on your right side. The approximate property corners are marked with white poles topped with pink tape.
The owner of this property is offering to carry the financing. The terms offered at the time of this blog posting are $2,999 down (30%), a loan amount of $7,000 amortized at 7% interest for 6 years. Your monthly payment is approx $119.34 or more per month until paid.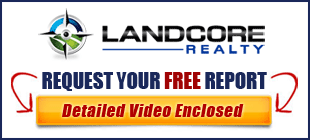 Are you a Land Owner? Consider getting this Free Report
if you are thinking about selling your property.
Helendale Land for Sale - LandCore Realty provides cutting edge technology and marketing to all its clients. We specialize in helping land owners, and also those interested in investing, in Barstow, Hesperia, Apple Valley, Victorville, Adelanto, Lucerne Valley, and all surrounding areas. (760) 952-2345