This property is located in Apple Valley, CA in the San Bernardino County. Apple Valley sits within the Inland Empire approx 37 miles south of Barstow and 46 miles north of San Bernardino. The property sits approx .5 miles west of the Apple Valley Airport and 3.5 miles southeast of the I-15 freeway on Comanche Rd.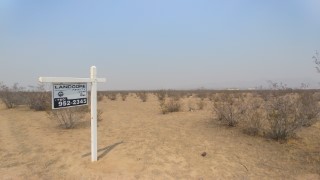 The Town of Apple Valley was incorporated in 1988 and lies within the Victor Valley. The adjoining cities are Victorville on the west and Hesperia on the southwest. Apple Valley was home to Roy Rogers and Dale Evans and their influence can be seen on the street names such as Dale Evans Parkway and State Route 18 'Happy Trails Highway'.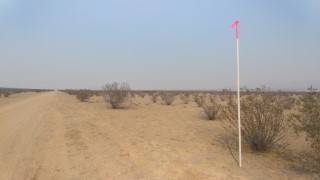 The property is within the North Apple Valley Industrial Specific Plan and is zoned 'Industrial - Specific Plan.' This specific plan was established by the city to facilitate the development of a high quality industrial park around the Apple Valley Airport. According to the city, 'Appropriate land uses in this designation include manufacturing facilities with showrooms and offices, regional warehousing facilities and support services for manufacturing and warehousing.

Seller Financing Available! The owner of this property is offering to finance with $3,500 down, a loan of $24,450 at 7% interest for 10 years. Monthly payments to be $283.89 per month.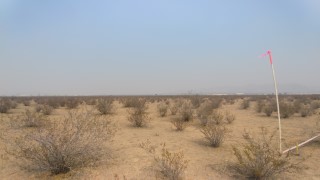 Town water lines run parallel to the west property boundary on Comanche Rd., sewer is approx 1,000 feet east on Dakota Rd. and electricity is on Corwin Rd. near Apple Valley Transfer and Storage. Buyer should verify all utilities with the Town of Apple Valley.

The property sits .5 mile from the Apple Valley Airport. The airport holds an annual airshow in October every year with aerial aerobatics, skydivers, historic aircraft, car show, etc. The nearby 1.5 million sq ft. Walmart Distribution Center located on Johnson Rd. opened in 2004 and had spurred development in the area including a new 1.4 million square foot Big Lots facility nearby.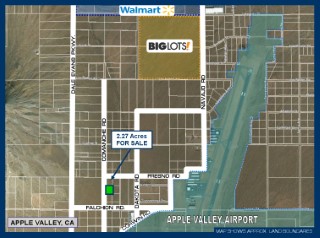 Directions from Dale Evans/Corwin: Continue on Corwin towards the airport for .6 miles, turn left onto Dakota Rd., turn left onto Hogan Rd., turn right onto Comanche Rd. Approx corners are marked with 10 ft white PVC poles.
For more information about this property, Click Here.
Land for Sale in Apple Valley, CA - Kristen L. Maley (Realtor, Land Pricing Strategist at LandCore Realty). LandCore Realty provides cutting edge technology and marketing to its clients. I specialize in helping land owners and those looking to invest in land in Oro Grande, Adelanto, Victorville, Hesperia, Apple Valley, Lucerne Valley, Barstow, Helendale, Yucca Valley, Joshua Tree, Twentynine Palms and surrounding areas. (760) 952-2345