This 19.48 acre property is 3.5 miles east of Highway 395 in California City CA. California City is within Kern County in northern Antelope Valley. California City is adjacent to Edwards Air Force Base, Boron and Mojave CA. The property sits 18 miles northeast of the heart of California City and 8 miles southeast of Johannesburg CA.

California City began in 1958 with the plan to become the new rival of Los Angeles. Though it did not develop as planned, the city is the 3rd largest city in California by land area. Many residents of California City work at Edwards Air Force Base, the Mojave Air and Space Port, Tehachapi, Ridgecrest, Palmdale and Lancaster.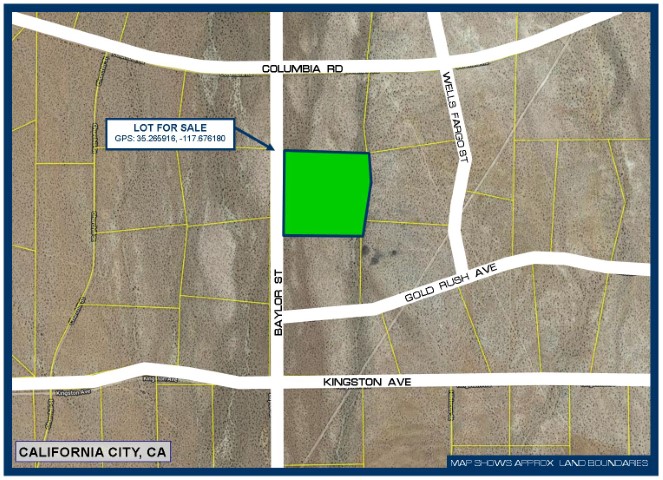 This property is in the northeast corner of California City in an area of mostly open desert. Great investment property for long term development or bring out your toys and camp on your property. Far enough from Highway 395 to have some peace and quiet but not too remote.

Directions from Kramer Junction: Head north on Highway 395 for 18.5 miles, turn left onto Cuddeback Rd. and go 1.2 miles, turn right onto Columbia Rd. and go 1.3 miles, turn left onto Colgate Rd and go 0.3 mils, turn right onto Kingston Ave and go 1.9 miles, turn right onto Baylor St. and go .5 miles. Property is on your right.
GPS: 35.265916, -117.676180
Land for Sale in Helendale, CA - Kristen L. Maley (Realtor, Land Pricing Strategist at LandCore Realty). LandCore Realty provides cutting edge technology and marketing to its clients. I specialize in helping land owners and those looking to invest in land in Oro Grande, Adelanto, Victorville, Hesperia, Apple Valley, Lucerne Valley, Barstow, Helendale, Yucca Valley, Joshua Tree, Twentynine Palms and surrounding areas. (760) 952-2345