This 18.5 acres sits on Amboy Rd. just 1.6 miles outside of the city limits of Twentynine Palms, CA. Twentynine Palms is located in San Bernardino County north of Palm Springs and east of Joshua Tree along Highway 62. The property sits 7.7 miles away from the entrance to the Marine Corps Air Ground Combat Center Twentynine Palms and 9.7 miles from the north entrance to Joshua Tree National Park.

According the the County, the property is zoned Rural Living - 5 Acre Minimum. 'The RL (Rural Living) land use zoning district provides sites for rural residential uses, incidental agricultural uses, and similar and compatible uses.' One unit is allowed per 5 acres with accessory dwellings as allowed per the county code.

Two Nearby/Adjacent properties are also available for sale by the same owner: 38.48 acres as well as 18.5 acres. The properties can be sol together or separately.

Financing Available! The seller is offering financing; 30% down ($8,085) with a first trust deed of $18,865 at 7% interest for 7 years. Monthly payments to be $284.75 or more until paid. Subject to a credit check and approval. (The Seller reserves the right to adjust the interest rate based upon the Buyers credit worthiness)

The Twentynine Palms Marine Base is currently home to one of the largest military training areas in the nation. The city itself also encompasses the north entrance to Joshua Tree Nation Park, the park headquarters and the Oasis Visitor Center. The park encompasses 800,000 acres and averages 1.4 million visitors but hit a record high of 1.6 million visitors in 2016.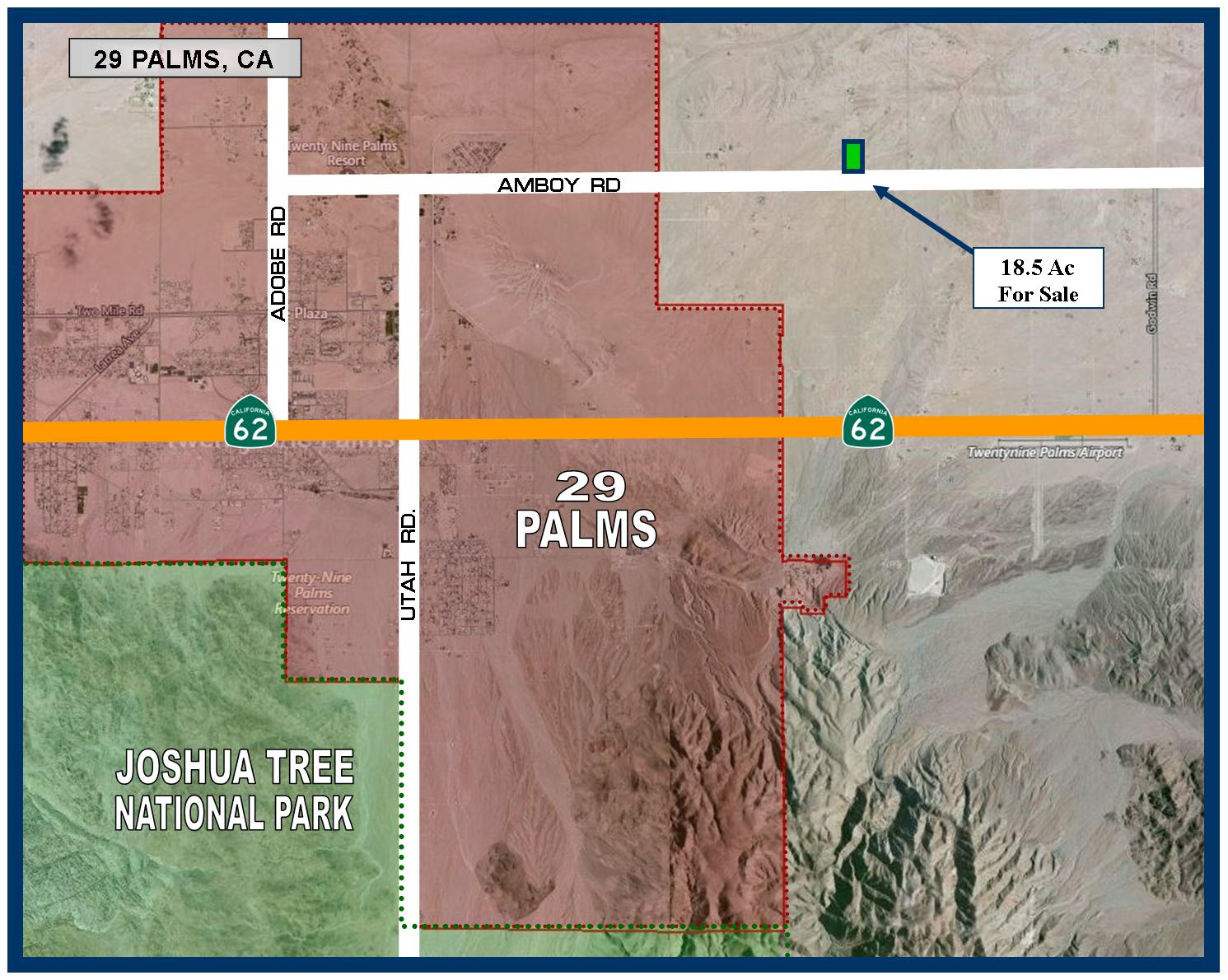 Directions from Highway 62: turn north on Adobe Rd and go 2 miles, turn right onto Amboy Rd. and continue approx 4.7 miles. Property is on your left.
Land for Sale in Twentynine Palms, CA - Kristen L. Maley (Realtor, Land Pricing Strategist at LandCore Realty). LandCore Realty provides cutting edge technology and marketing to its clients. I specialize in helping land owners and those looking to invest in land in Oro Grande, Adelanto, Victorville, Hesperia, Apple Valley, Helendale, Yucca Valley, Joshua Tree, Twentynine Palms and surrounding areas.(760) 952-2345