This 1.09 acre property for Sale in Helendale, CA is along National Trails Highway (Old Route 66) between Victorville, CA and Barstow, CA . Helendale is located in San Bernardino County, one of the largest counties in the United States. This parcel is zoned Community Industrial, and is located just north of Vista Road.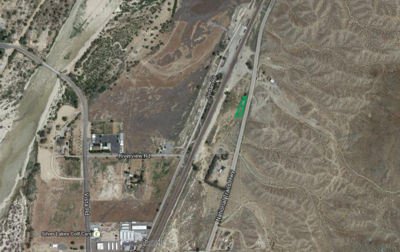 Helendale is mostly known for a Home Owners Association called Silver Lakes, which has approximately 3,000 homes. The HOA that is just around the corner from the property, has two man-made lakes, a 27 hole championship golf course and many quaint family restaurants. Take a scenic drive down Old Route 66, or turn down Vista Road for some great restaurants, golfing, swimming or boating.
Directions to the Property from Victorville, CA- When traveling north on the 15 freeway, exit on 'D St.' and make a left onto D St. D St which becomes National Trails Highway (Old Route 66) and continue for approximately 15.5 miles. The property will be on your left, just caddy corner to an old gas station. The approximate property corners are marked with white poles topped with pink tape.
The owner of this property is offering to carry the financing. The terms are $3,000 down (20%), a loan amount of $12,000 amortized at 6% interest for 10 years. Your monthly payment is approx $133 per month or more until paid.
Discount offered if two parcels purchased together.This property can be purchased with LCR Listing # 1009 (6.5 Acres listed for $79,900) for a discounted price of $99,900 (a savings of $9,900 if both properties are purchased together). If purchased together the owner is offering to carry the financing with $9,990 down, at 10% interest for 10 years. Monthly payments to be $1,188.17 or more per month until paid.
For more information regarding this property Click Here
If you own property in any of the surrounding areas and would like information regarding selling your property Click Here
Helendale Land for Sale - LandCore Realty provides cutting edge technology and marketing to all its clients. We specialize in helping land owners, and also those interested in investing, in Barstow, Hesperia, Apple Valley, Victorville, Adelanto, Lucerne Valley, and all surrounding areas.