This is a 10 acre property that includes a storage container, a single wide mobile, a tractor and a propane generator to power the place. Your new desert retreat is located just 4.3 miles south of Slash X Ranch, .6 miles east of Highway 247 and 19.6 miles north of the heart of Lucerne Valley, CA. Highway 247 connects Barstow, CA to Lucerne Valley, CA.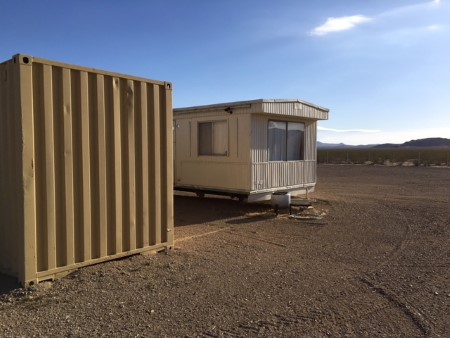 Did we mention the 40 foot storage container? It is large enough to store your weekend toys, and comes with a tractor and generator inside! The a single wide mobile home is also included to provide a little shelter and shade. Approx 1 acre of the property is fenced with chain link, giving you a bit of security and comfort. The mobile home is not livable in its current condition as a permanent residence, but could be a great weekend getaway if you installed a septic and potable water tank. Park the dirt bikes and spend the evenings enjoying the starry nights camping on your own 10 acres.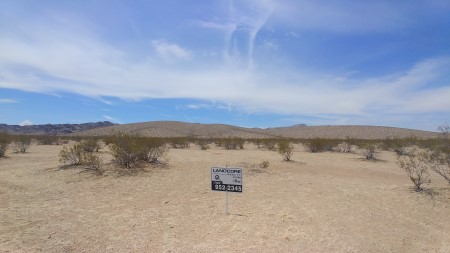 Owner Financing available! With $17,998 down this desert escape could be yours, the owner will finance the balance of $26,997 at 7% interest for 5 years. Monthly payments to be $534.57 per month.

The area is open desert with very few homes which makes it perfect for off road vehicles and dirt bikes. The Slash X Cafe is 4 miles to the north of the property. Slash X is enormously famous with off road enthusiasts and even a few celebrities have stopped in to eat. Robby Gordon, Brad Pit, Angelina Jolie and Quentin Tarantino have visited the cafe. A bar scene from 'Erin Brokovich' (movie starting Julia Roberts), was also filmed at the cafe.


Just a few miles south of the property is New Jack City, a little known and often overlooked rock climbing area! According to RockClimbing.com, 'More than 350 sport climbs for climbers of all abilities (5.6-5.13d) scattered across a prehistoric-looking landscape near Barstow. Located in the high desert, the climbing season runs fall through spring and although winter days can be cold they often are climbable and pleasant in the sun . The rock is an unusual metamorphic rock of volcanic origin which has weathered into an amazing array of formations offering a variety of holds - edges, crimps, jugs, pockets, huecos and underclings. The climbing is typically steep and varied and requires both strength as well as technique to succeed.'

The Bureau of Land Management (BLM) operates Sawtooth Canyon campground 2 miles southeast of the property. Currently, it is free to camp at the canyon on any of the 13 campsites and the facility provides picnic tables and fire rings.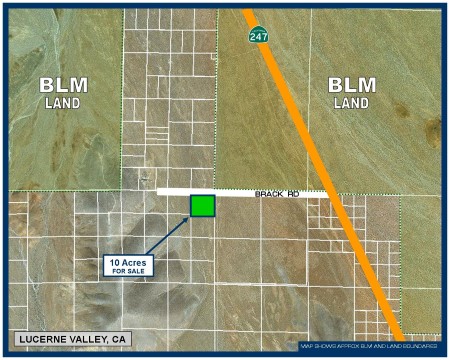 Click here for more Information about this property.
Directions from Lucerne Valley: Turn onto Highway 247 North towards Barstow and continue 19.6 miles, turn left onto Brack Rd. and continue .6 miles. Property is on your left side. Approx corners are marked with 10 ft white PVC poles with pink tape.

Directions from Rimrock/Barstow Rd: Head south on Barstow Rd (Highway 247) for 12.8 miles, turn right onto Brack Rd and continue .6 miles. Property is on your left. Approx corners are marked with 10 ft white PVC poles with pink tape.
Land for Sale in Lucerne Valley, CA - Kristen L. Maley (Realtor, Land Pricing Strategist at LandCore Realty). LandCore Realty provides cutting edge technology and marketing to its clients. I specialize in helping land owners and those looking to invest in land in Oro Grande, Adelanto, Victorville, Hesperia, Apple Valley, Lucere Valley, Barstow, Helendale, Yucca Valley, Joshua Tree, Twentynine Palms and surrounding areas.(760) 952-2345